 Liquid error (sections/page-flavor line 64): product form must be given a product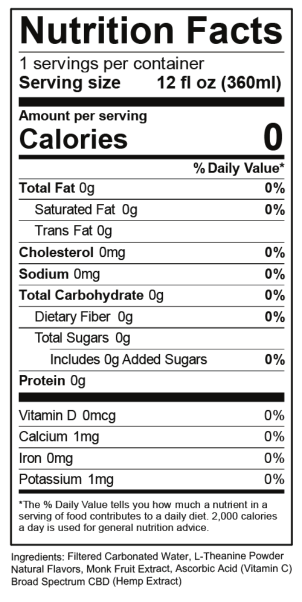 FDA Disclaimer: The statements made within this website have not been evaluated by the U.S. Food and Drug Administration. These statements and the products of this company are not intended to diagnose, treat, cure or prevent any disease. Not intended for children. Do not use if pregnant, nursing or trying to conceive. Intended for short-term use.
Lemon+Lime
Online Exclusive

Lemon lime combines the tangy flavors of lemon and fresh lime, a classic flavor with a new twist. This blend that pays homage to the classic flavor with a refreshing new twist.
Aprch CBD Sparkling Waters are crafted with 25mg of Broad Spectrum Hemp Extract, L-Theanine, and Vitamin C. They are completely calorie-free, sugar-free, alcohol-free, and caffeine-free. Whether you want to elevate your daily routine or simply enjoy a refreshing and delicious drink, grab a cold Aprch and take a deep breath, open, sip, and relax.

Enjoy a new way to unwind.
Ingredients: Filtered Carbonated Water, L-Theanine Powder, Monk Fruit Extract (No Erythritol), Ascorbic Acid (Vitamin C), Natural Flavors, Broad Spectrum Hemp Extract (CBD)